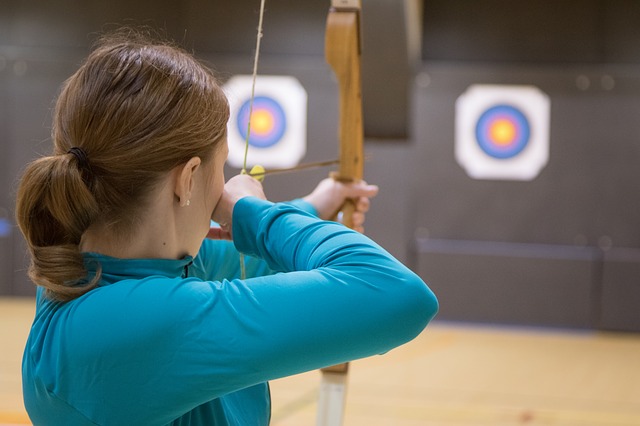 Video games and video gamers love bows and arrows. There's a popular culture in movies and gaming that includes this time tested ancient weapon and it's more modern variants. The gaming industry has made magical, sci-fi and a whole host of weird and wonderful bows available in games over the years.
Best Retro Game Bow – The Sacred Bow – Kid Icarus
The favorite bow from older games is the enhanced Sacred Bow wielded by Pit in Kid Icarus. While he starts out wielding a short-range bow, the Sacred Bow lets him fire arrow much faster and farther. Pit has an unlimited supply of arrows and can use Fire Arrows to deal more damage. By the time Pit returned in Kid Icarus: Uprising, the bow was only one of many weapons he used, but in the original two games, it was his primary weapon of choice.
The Best Crossbow – BioShock
Do crossbows count? They are bows, after all, some might say not really but the top pick for the crossbow in a computer game is BioShock. Not only is the crossbow in BioShock one of their favorite video game crossbows, but it's also considered by many players to be the best BioShock weapon. It deals excellent damage with multiple types of ammunition, it is powerful at both short-range and long-range, and a headshot from the crossbow will kill a Splicer in one hit on any difficulty setting. If that's not enough, its bolts can often be recovered intact (and you can upgrade it to make this more likely), which means it's an incredibly powerful weapon with a ready supply of ammo. It doesn't get much better than that.
Magical – Kafka – Bayonetta 2
Some are magical some are just plain weird. Bayonetta is here to prove bows can be very strange. The Kafka, a new bow added in Bayonetta 2 and named in honor of Franz Kafka's "The Metamorphosis," has a dragonfly-like appearance and shoots poison arrows. According to its in-game description, the bow comes from a man who metamorphosed into a insect and lives on inside the weapon to fire arrows made of venomous bugs. Indeed, if you perform an Umbran Climax while wielding this bow, it fires massive, demonic dragonflies at the enemy. A bow that shoots demonic dragonflies instead of arrows? It doesn't get much weirder than that.
SciFi! – Predator Bow – Crysis 3
You can't beat an auto-loading compound bow! The Predator Bow from Crysis 3 is a fan-favorite, with three draw weights you can switch between and four different types of arrows to fire: carbon-impact, electro/shock, airburst fragmentation, and super-thermite. In single player, it has its own weapon slot, and it is also the only weapon you can fire while Cloaked without using energy. In short, the Predator Bow is one of the best bows in video games–science fiction or otherwise.
Better Than Real? Best VR – QuiVR
QuiVr is a multiplayer wave shooter designed specifically to be a fun, accurate archery game. Your trusty bow will let you take down wave after wave of enemies, with physics designed to feel like actual archery. QuiVr isn't the fullest gameplay experience out there yet, but if you want to feel like you're wielding a bow and take down enemies at the same time, this is the VR bow we like the most.
The Top 5 Best Overall Bows in Video Games
Some of these bows are in games where archery is a main focus, while others just happen to have a good archery component, but either way, these are the top 5 bows in video games and some of the games you most want to seek out if you're looking for a fun archery experience.
Azkâr from Middle-Earth – Shadow of Mordor – Azkâr is a special bow originally made for Celebrimbor, but Talion can use it in Middle-earth: Shadow of Mordor when he enters the Wraith world while in Ranged mode. This bow can be upgraded with Runes to gain special bonuses, and Shadow of Mordor is another game where archery is generally enjoyed by fans. You may not use it often, but between its gameplay and its connections to Lord of the Rings lore, we feel Azkâr deserves recognition.
Bow of the Dragonhorn in Dark Messiah of Might & Magic -The Bow of the Dragonhorn available in Dark Messiah of Might & Magic is one of the most powerful bows in the game (especially against undead enemies), but that's not why it has such a high spot on this list. Instead, we picked it out because many players consider Dark Messiah to have some of the most realistic and satisfying archery in video games, with realistic aiming and physics.
Khergit Bow from Mount & Blade: Warband – Okay, the best bow is pretty divisive among fans, but whether you favorite the Khergit Bow or one of the others, Mount & Blade: Warband is a must for satisfying archery combat. Just the fact that so many different bows can be considered the best depending on your style and preferences points to how strong its archery is. Not only that, but it has fairly realistic physics and aiming. In general, using a bow in Mount & Blade: Warband finds a nice balance point between realism and fun.
Compound Bow from Tomb Raider – As of the Tomb Raider reboot, the bow has become Lara's standard weapon. There are many different types of bows you can use, as well as various special arrows, but as long as you don't mind its slower rate of fire, the Compound Bow is one of the best. It deals heavy damage and is a great choice for stealth. Tomb Raider and Rise of the Tomb Raider don't have the most realistic archery combat, but they do make it fun, so give their bows a try.
Longbow from Age of Chivalry – Age of Chivalry is a free total conversion mod for Half-Life 2 focused on medieval combat between two fictional orders. The team eventually made a full game called Chivalry: Medieval Warfare. Archers in Age of Chivalry can fight with a longbow, a crossbow, or a javelin, and the longbow's fast pace and long range makes it our pick. Not only is archery a strong focus, but it's also fairly realistic–Age of Chivalry is another go-to game for players interested in bows that try to feel realistic.
For those that like pictures…
Here's the whole list in a nice infographic for those of you who like that sort of thing!

Source: targetcrazy.com